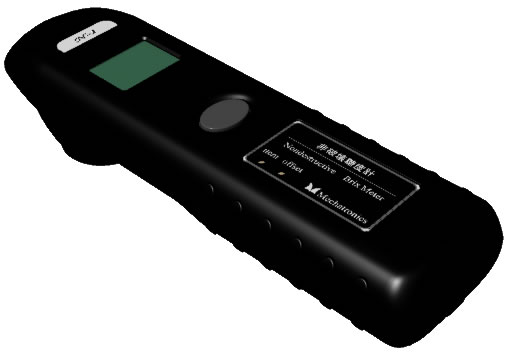 About ordering the non-destructive saccharimeter N-1
Inquiries and orders from abroad, thank you to the following.
Fujihira Industry CO.,LTD.
International Office  Liu Bo
6-11-6 Hongo, Bunkyo, Tokyo, 113-0033, JAPAN
TEL:0081-3-3812-2270
FAX:0081-3-3812-3663
E-mail:liu.ha@fujihira.co.jp
Fast! Able to measure the sugar content within 2 seconds
Only by N-1 to a fruit surface and press the button, you can measure the sugar content in about 2 seconds. The time required for one measurement will dramatically affects work efficiency when you want to inspect a large number of fruits.
Low running cost
It is possible to perform nondestructive sugar content measurement for about 5,000 times with 2 AA-size alkaline batteries. Also, you can use a commercially-available rechargeable battery (1.2V nickel-metal hydride battery).
Small and light! Easy to carry along
The weight of N-1 is only 200 g, and its size is 181 x 52 x 42 [mm], about the same to those of a TV remote control. It is highly portable, and you can put it in the chest pocket of your work clothes.
You only need one unit!
Registering calibration curves for up to 10 items is possible. These curves can also be added after purchase. As of 2018, the items that can be measured by N-1 are apple, peach, mango, pear, persimmon, fig, (loquat, cherry, tomato, Japanese plum, Shine Muscat grape, oriental melon, jujube). Items in parentheses have low sales volumes, and their market values have not been established yet, so they are considered as trial sales items. For details, please refer to the specification of the non-destructive saccharimeter N-1.
Standard error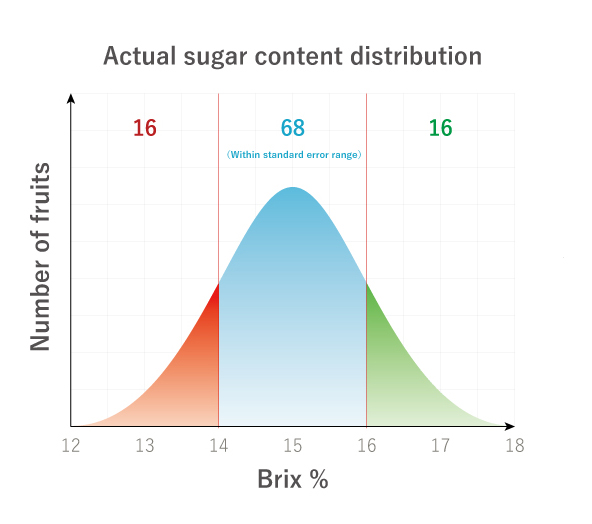 The commonly-observed accuracy level of a refractometer-type saccharimeter for measuring the sugar content of squeezed fruit juice is shown as an error range, for example, ± 0.2%.
In contrast, the accuracy of N-1 is indicated by a standard error. For example, in the case of N-1 use for peaches with a standard error of 1.0 [Brix%], if 100 peaches with a sugar content of exactly 15 [Brix%] measured by N-1 and their individual squeezed juice was measured by a refractometer-type saccharimeter, it can be expected that the sugar content of 16 of them would be at 14 [Brix%] or lower, 68 of them would be in the range of 15 + 1.0[Brix%], and the remaining 16 of them would be at 16[Brix%] or higher.
The standard error value depends on each type of fruit. Also, the same fruit may vary depending on its variety. The sharper the peak of the graph, the better the accuracy.
Actual sales performance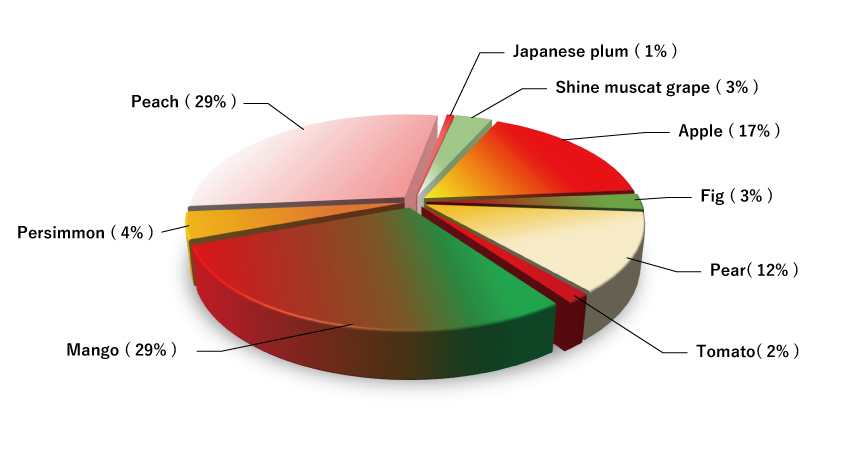 The total sales from August 2009 to October 2018 is 764 units.
About 90% of our customers are fruit farmers, and the remaining are research institutions, schools, and companies related to agriculture and warehousing.
Specifications of the nondestructive saccharimeter N-1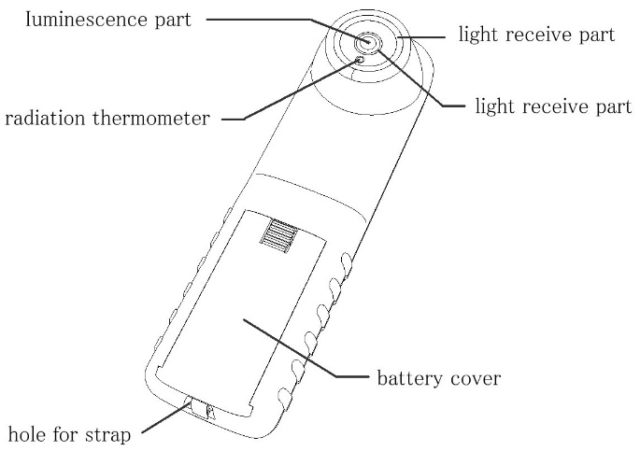 | | | |
| --- | --- | --- |
| Dimensions (mm) | 181 × 52 × 42 | Length x width x thickness |
| Weight | 200g | Including batteries |
| Accuracy | For apples, the standard error is about 0.5[Brix%] | Accuracy is different for different types of sample |
| Power source | Two AA alkaline battery (rechargeable battery can also be used) | About 5,000 measurements possible |
| Light source | Infrared LED | |
| Regular-sale products | Apple, mango, peach, persimmon, pear, fig | As of February 2019 |
| Test-sale products | Loquat, cherry, tomato, Japanese plum, Shine Muscat grape, oriental melon,jujube | As of February 2019 |
| Correction function | Possible to adjust ±9 [Brix%] increments to ±0.5 [Brix%] increments | |
| Recommended operating temperature | In a constant ambient temperature from 15 to 30 °C | |
ND-2 Optional equipment for desktop measurement
ND-2 does not work by itself. It is meant to be used in combination with N-1.
It is possible to use 2 mirrors with freely-adjustable angles without the need of any batteries to see the display of N-1. Since it does not contain any electronic parts, the operating environment cannot be chosen.
| | | |
| --- | --- | --- |
| Weight | 742g | The weight does not include N-1 (200g) |
| Dimensions (mm) | 106 × 213 × 134 | width x thickness x height |
Explanation Videos
Others: https://mechatronics.co.jp/movie
User Manual